The Myriad Friendly Contest is a competition hosted by Myriad, which occurs twice an year. The topic of each contest is different and unique, and sometimes the offered prizes have connection with the theme. The contest is free for absolutely any user of Harmony Assistant or Melody Assistant.
Rules and other information can be found on the official contest page.
27th contest
Edit
The 27th contest has been announced on July 6th. The theme associated to this contest is "The music box", and so, the winner of the 1st prize will earn a music box.
The contest deadline is December 31st, 2012, so there's yet time to submit scores. For further details, see the contest page] at the official website.
26th contest
Edit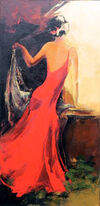 The winners of the 26th Myriad contest (which has closed in May 31st) were announced on the contest page. Here is the winner list:
The 3rd Prize is given to Jean-Michel Moibert for his "Une vie en danse", who wins a GOLD sound base and a Myriad sweatshirt.
The 2nd Prize is given to Jorge Grillo for his "Bailando an la Penumbra", who wins a GOLD sound base, a Myriad sweatshirt and a Myriad USB flashdrive.
And the 1st Prize is given to Patrick Segaud for his "Arabesques". He wins a HOHNER MEISTERKLASSE harmonica, a Myriad USB flashdrive and will be part of the jury for the next sessions.
Congratulations for all!